My whole life, I've never been a big fan of tattoos... for me. They're great on other people, but I've never been interested in one for myself.
Until recently. Somehow I got bit by the bug and started really wanting one!
It's surprisingly hard to find subtle simple tattoos, which is what I wanted. So here are some that I gathered off the internet for inspiration.
Fear Less (this is mine! I did it!) By nature I'm a very timid person. Afraid of failure. Afraid of success. Afraid of social situations. Afraid of taking chances. So this is a reminder to me every time I look at my wrist, to fear less.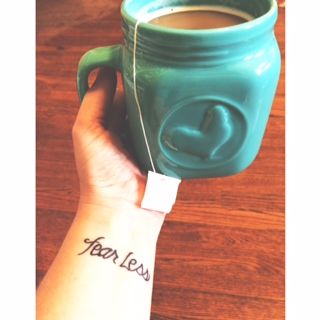 The prettiest butterfly I've ever seen.
Just one breath is a million sighs.
Kind of blurry but it says "I follow the rules". Ha! That one makes me laugh.
Loves Jesus & America too
I am enough the way I am.
Be the change.
Courage
Love me for who I am.
Imagine
Act justly. Love mercy. Walk humbly.
"I will fear no evil for Thou art with me"... I like the placement and the wavy pattern.
Not all those who wander are lost
A pretty bird
Thy word is a lamp unto my feet and a light unto my path.
What about you? Do you have tattoos? Do you want any?