I haven't blogged in a while, and I'll be honest... life is kicking my butt lately.
I'm always struggling to find balance, and never feeling like I've figured it out. I don't think I'm alone in that.
Last week one day was particularly tough. I fought back tears just feeling like I need to be all things to all people, need to do more and do it efficiently, and no matter what I do...
it's never enough
.
I skipped my morning workout and drowned my sorrows in a peanut butter donut.
And strangely, it didn't help. Ha! I still felt like I just wasn't enough.
Then I found this image from my friend
Liv Lane
.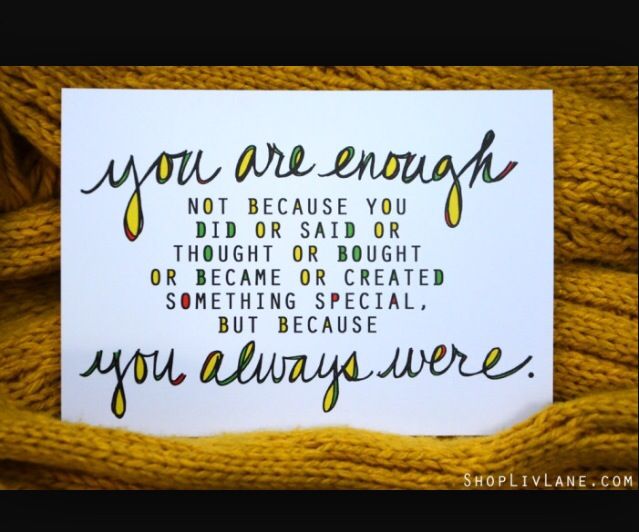 "You are enough. Not because you did or said or thought or bought or created something special, but just because you always were."
Whoa.
And then I read this:
"The world says, 'Perform.'
Jesus says, 'Rest'." - Timothy Keller
Why are we struggling so hard? Why do I push and strive and drive myself crazy, only to feel like I've failed? Why are we trying so hard to perform? Who do we think we'll impress? Is it necessary?
If you're struggling with this, I hope you can take time to breathe, rest, and realize that you are enough.